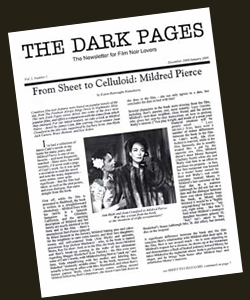 Subscribe now to The Dark Pages, the planet's oldest newsletter devoted to the shadowy world of film noir. Edited by Karen Burroughs Hannsberry, each eight-page, bi-monthly issue contains movie reviews, biographies of featured performers, memorable quotes, guest essays, photos, and more! ALSO AVAILABLE in an electronic version – see the Subscriptions Options to order!
Sign up today! (PayPal, personal checks, money orders accepted.) Shipping is free!
Click here to request a free sample copy.
To sign up for the newsletter with a personal check or money order, click here for the subscription form.
To sign up for the newsletter with PayPal, click on the subscribe button.
Subscription Options